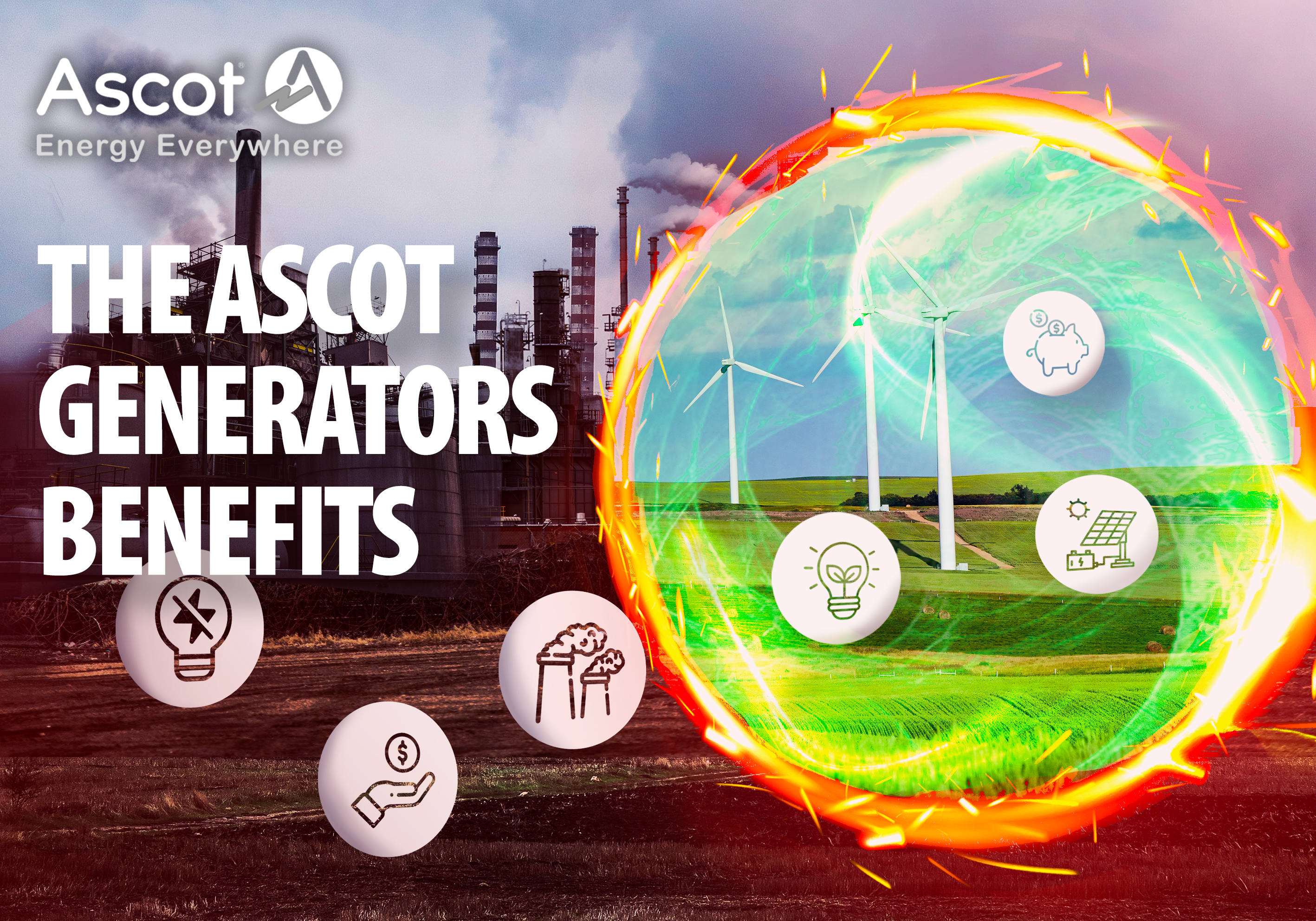 The benefits of using industrial generator sets in Europe
The benefits of using industrial generator sets in Europe
The Ascot brand is associated worldwide with tailor-made energy solutions powered by diesel, LPG and Natural Gas, but especially with high-quality and customized hybrid power solutions.
In particular, Ascot products are developed with Made in Italy components, labour and standards.
They are ideal for telecom, civil and industrial applications, mobile applications, power plants, rural areas and special solutions.
Generating sets are machines that transform the thermal energy produced by the combustion of fuel into energy. Hence, they are used to self-produce electricity.
Their implementation guarantees significant advantages in terms of:
1. constant and emergency energy continuity
2. energy efficiency
3. reduction of costs and emissions
Now let's see in detail the benefits mentioned above.
Energy continuity thanks to industrial generators
When we talk about energy continuity, we mainly refer to 2 possible scenarios:
● emergency service: all those emergency situations in which the electricity fails
● continuous service: the production of electricity where there is no public distribution network or where it is necessary to directly produce the energy necessary for one's needs
Industrial generator sets meet the most demanding requirements in terms of reliability, durability and immediate response to the demand for electricity.
Operating independently, they make it possible to deal with situations of temporary or extended unavailability of energy.
This means that, in case of emergencies, breakdowns and blackouts, they take over the conventional grid to ensure a constant flow of electricity and continuous operation and productivity.
Therefore, they are essential for places such as airports, hospitals and large infrastructures.
Furthermore, they supply energy during events, on construction sites and in all those off-grid areas still without electricity.
Finally, producing energy autonomously, they become an ideal tool for individuals and small and medium-sized enterprises.
In fact, they guarantee energy continuity, absorb consumption peaks and reduce expenses. A significant advantage to counter the current "expensive bills" that affects the whole world.
Energy efficiency guaranteed by generators
Energy efficiency is one of the priority objectives of the European Union to reduce environmental impact and cut energy costs.
It is therefore essential to ensure smart, sustainable and inclusive growth.
Ascot hybrid generator sets use the cheapest energy source available by combining:
● generators (hybrid, DC or AC generator sets)
● solar panels
● batteries and/or grid (if present)
They integrate easily with photovoltaic or wind energy.
These energy sources can then connect and work with Ascot solutions to independently generate the essential energy needs.
Reduction of costs and emissions through generator sets
The generator sets allow you to disconnect from the network and create an independent energy requirement.
This, in addition to effectively combat high energy costs, guarantees a drastic reduction of:
● CO2 emissions
● carbon dust emissions
● volume of components to be recycled
● operating costs
Choosing Ascot generator sets therefore means getting primary energy savings and CO2 emissions down to 0.
This is in line with the SDGs (Sustainable Development Goals), that is the sustainable development goals which require nations to reduce CO2 emissions by 55% by 2030 and by 100% by 2050.
All Ascot energy solutions are fully tested, proven and in line with the SDGs sustainable development goals.
Ascot also includes in the systems a total product monitoring system with IoT technology which allows customers to manage all services
Contact us for all the necessary information, we transform your energy needs into efficient solutions!