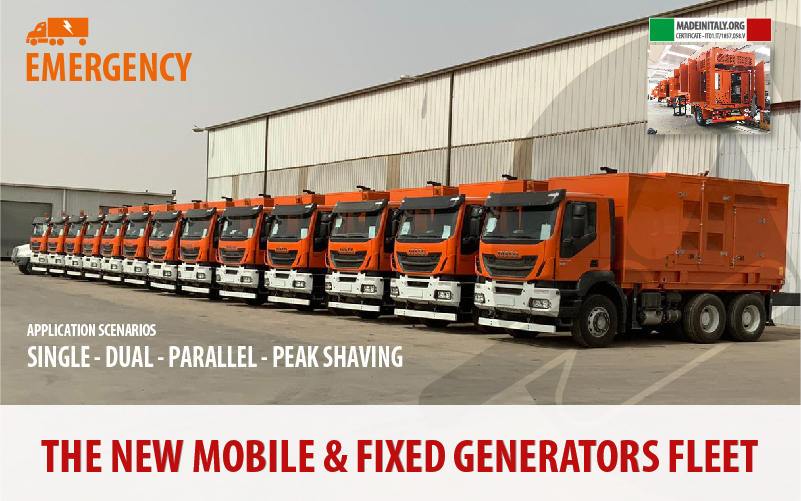 Emergency Mobile Power Generators Range
Ascot Industrial proposes a complete portfolio of Mobile and Fixed Generators for Emergency applications.
Belong to this sector, diesel power generators realized for Electric Companies, Mass Event, Civil and Security Departments, Rental Sectors, etc.
There are many events (natural and not) that can cause power outages in an electrical network. Among these causes we can list, for example: faults in power plants; damage to electrical transmission lines (cables and pylons); short circuits caused by fire and flooding, etc.
A power outage (also called a power cut, a power out, a power blackout, a power failure, a power loss, or a blackout) is the loss of the electrical power network supply to an end user, and Ascot Mobile generators are reliable power modules ready to be displaced where needed. The emergency mobile generators are designed to power utilities (i.e. factories, buildings, hospital, mall etc.) in case of high demand and power outages of the National Grid (especially in sites where the environment and public safety are at risk).

Mobile Diesel Generators for Emergency have a power range from 25 kVA up to 1800 kVA (50/60 Hz.), parallelable up to 40 MW. They can be also used in conjunction with the National Grid in peak shaving, supplying energy up to 2,5 MW (in dual mode).
Whilst some of our products might appear similar, the solutions that Ascot proposes have been studied even in the smallest detail to make a difference.
This is the reason why Ascot products and solutions are beyond comparison with other standard products.
APPLICATION SCENARIOS
- ISLAND MODE: The unit can be used to power the load directly.
- STAND-BY TO THE MAINS: Designed to be used in emergency function mode with external ATS system.
- PARALLEL GENSETS: If the power required is considerable, it may be possible to insert more modules in parallel. The total power available will be given by the sum of the individual power of the gen-sets (with automatic start-stop).
- PEAK SHAVING FUNCTION: The Gen-Set can be connected to the mains to supply the power needed to cover peak demand not available from the mains.
CHARACTERISTICS:
- FREQUENCY 50/60 Hz.
- DUAL VOLTAGE SWITCH
- BEST FUEL AUTONOMY
- MOTORIZED CABLE REELS
- SYNCRONIZING AND CONTROL PANEL
- PV PANELS FOR STARTER BATTERY CHARGING
- SINGLE MODULE, PARALLEL, AMF
- PEAK SHAVING FUNCTION
- COMPACT AND EASY TO BE MOVED
View all Ascot Mobile & Fixed Generators for Emergency
MORE INFO:
For more info and specifications contact our Team: https://ascotinternational.com/our-team