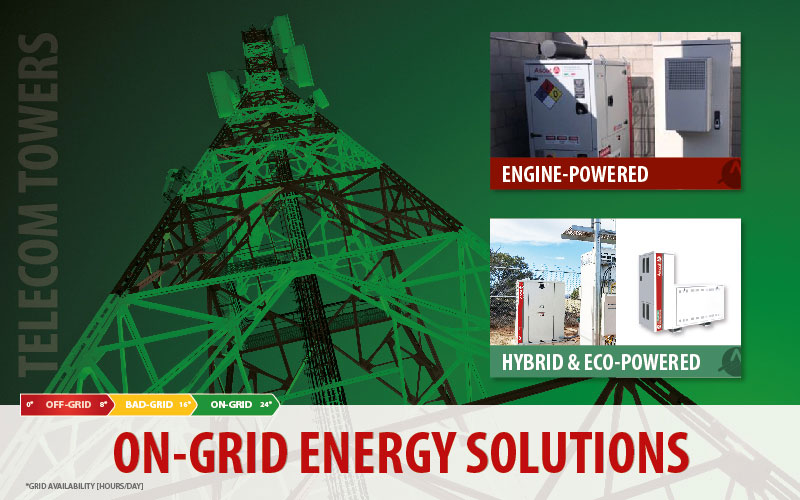 On-Grid Energy Power Solutions for Telecom Towers
Ascot offers various energy solutions such as electric generators and battery storages for on-grid telecom towers. By on-grid we mean the areas with electricity available continuously during the day. In these telecommunication towers the electricity is in fact available for a time between 16 and 24 hours.
For these on-grid areas, Ascot suggests both engine-powered and hybrid-powered solutions able to guarantee stand-by power, and redundancy in the event of a rectifier fault. The proposed solutions also have various advantages such as the possibility of being full-green (with zero polluting emissions), cETLus certified, with a small footprint, etc.
The first are DC generators that do not require ATS, while the second are battery storage with inverters, to which a 5 kW DC back-up generator can be added.
ENGINE-POWERED SUGGESTED ENERGY SOLUTIONS
DC GENSET (1+0) CHARACTERISTICS:
• -48V DC power
• Single Generators (1+0)
• STAND-BY POWER
• 100 ENGINE HOURS/YEAR
• Small footprint; Direct DC power to load
• Redundancy in case of rectifier fault
• NO ATS required
• CETLus Certified; Web-based Remote Management System

HYBRID-POWERED SUGGESTED ENERGY SOLUTIONS*
DIESEL/LPG HYBRID + INVERTER CHARACTERISTICS:
• -48 V DC power
• Diesel/LPG/ Hybrid +Inverter
• 24H NON-STOP POWER
• Up to 94 % fuel/engine hours savings
• 12 months Service Interval
• 10 Years service life; Web-based Remote Management System
• TYPICAL ENGINE HOURS: 365 running hours/year
* When the outage, even few days in the year, lasts for 24 hours.

ECO-POWERED SUGGESTED ENERGY SOLUTIONS
HYBRID BATTERIES (NO ENGINE) CHARACTERISTICS:
• -48 V DC power
• H-POWER Box
• BATTERY Storage with inverter
• Full green. No engine
• 10-48 Hours autonomy
• More than 10 years battery life
• Web-based Remote Management System
• Optional 5KW DC genset back up
MORE INFO:
For more info and specifications contact our Team: https://ascotinternational.com/our-team