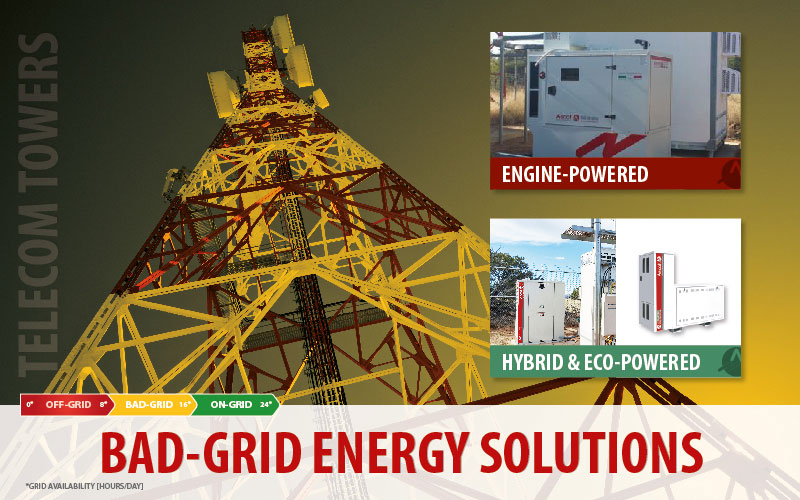 Bad-Grid Energy Solutions for Cell Towers
Ascot offers a complete range of generating sets, power solutions and hybrid generators for bad-grid telecom towers.
By bad-grid we mean areas with electricity not available continuously during the day. In these telecommunication towers the electricity is in fact available for 0 - 16 hours.
For these bad-grid areas Ascot suggests engine-powered solutions, and hybrid-powered solutions capable of guaranteeing continuity of electricity even in extreme weather conditions, offering enormous savings in fuel and product maintenance.
Among the first are the AC and DC generators capable of offering non-stop operation for 16 hours, while the all-in-one hybrid power units with the installation of inverters are among the latter.
ENGINE-POWERED SUGGESTED ENERGY SOLUTIONS
RUGGED SINGLE GENSET (1+0) CHARACTERISTICS:
• AC or -48V DC power
• Single Generators (1+0)
• 16H NON-STOP RUNNING
• 62 days fuel/oil independency
• 40.000 hours service life (4,5 years)
• Web-based Remote Management System
• TYPICAL ENGINE HOURS: 5760 running hours/year
HYBRID-POWERED SUGGESTED ENERGY SOLUTIONS
DIESEL/LPG HYBRID + INVERTER CHARACTERISTICS:
• -48 V DC power
• Diesel/LPG/ Hybrid +Inverter
• 24H NON-STOP POWER
• Up to 94 % fuel/engine hours savings
• 12 months Service Interval
• 10 Years service life; Web-based Remote Management System
• TYPICAL ENGINE HOURS: 365 running hours/year

ECO-POWERED SUGGESTED ENERGY SOLUTIONS*
HYBRID BATTERIES (NO ENGINE) CHARACTERISTICS:
• -48 V DC power
• H-POWER Box
• BATTERY Storage with inverter
• Full green. No engine
• 10-48 Hours autonomy
• More than 10 years battery life
• Web-based Remote Management System
• Optional 5KW DC genset back up
* Suggested from 12 to 16 h/daily grid availability
MORE INFO:
For more info and specifications contact our Team: https://ascotinternational.com/our-team